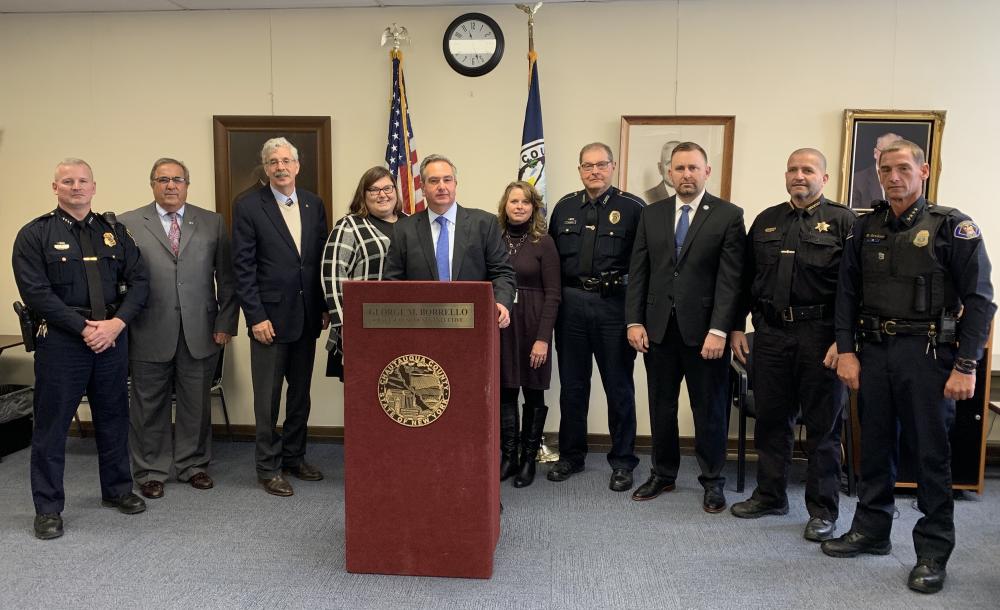 Pictured left to right: Jamestown Police Chief Harry Snellings, Assemblyman Joseph Giglio, Assemblyman Andrew Goodell, Jacqueline Phelps representing Congressman Tom Reed, Chautauqua County Executive and Senator-Elect George Borrello, Chautauqua County Health & Human Services Director Christine Schuyler, Lakewood-Busti Police Chief John Bentley II, Chautauqua County District Attorney Patrick Swanson, Chautauqua County Sheriff James Quattrone, Dunkirk Police Chief David Ortolano.
MAYVILLE, N.Y.: -- While thanking voters of the 57th State Senate district for giving him their vote of confidence on Election Day, Chautauqua County Executive and Senator-Elect George Borrello said the first and most immediate challenge facing him, his colleagues, and members of New York's law enforcement community is fighting for the repeal or amendment of the "reckless and dangerous" reforms of New York's criminal justice system that are slated to go into effect on January 1.
Borrello, standing alongside several members of the Chautauqua County law enforcement community, called on state legislative leaders and the Governor to convene a special session before the end of the year to address the mounting concerns that have been vocalized by prosecutors and law enforcement officials across the state.
"As Chautauqua County Executive over this past year, I was stunned and alarmed to see a flood of radical, politically-driven and costly new laws from Albany forced on residents and localities around the state," said Borrello. "From legislation allowing illegal immigrants to obtain driver's licenses, to the disastrous farm labor bill, to billions in new taxes and volumes of unfunded mandates, the dire impact of one-party rule was on full display." 
"However, topping the list of ill-conceived measures was the overhaul of the state's criminal justice system. Folded into the massive state budget and passed without a single hearing or debate, these 'reforms' include the elimination of cash bail for 90 percent of those charged with crimes – including serious crimes such as first degree grand larceny, terrorism-related money laundering, and the assault of a child under 11 years old – without any real safeguards to ensure the accused will return to court to face justice." said Borrello.
Among the over 400 offenses that will not qualify for bail in New York after January 1 are:
Manslaughter in the second degree;
Vehicular manslaughter in the first degree;
Criminally negligent homicide;
Burglary in the second degree;
Criminal possession of a weapon on school grounds;
Felony criminal sale and criminal possession of controlled substances;
Money laundering to support terrorism;
Promoting an obscene sexual performance by a child;
Bribe given to a public official; and
Aggravated cruelty to animals
Discovery changes mandated as part of the reforms will require all evidence to be turned over to defendants within just 15 days, a change that has elicited grave concerns from prosecutors statewide of both political parties.  The changes also mean that defendants will now have access to personal information on crime victims and witnesses, jeopardizing their safety and increasing the chances of jury tampering and intimidation. Borrello pointed out that victims of domestic violence will be especially vulnerable under these new rules.
"So if you are a burglar, a pedophile, a domestic abuser, a gang member, a drug dealer or a terrorist, next year is going to be a great year for you in New York State thanks to the irresponsible, politically-driven actions of our state legislature and our governor," Borrello said.
Chautauqua County District Attorney Patrick Swanson said: "Today we are sounding the alarm that the potential for a public safety crisis is very real.  In April, state government passed a budget that significantly changes our criminal justice system.  Steps need to be taken to properly fund the implementation of these sweeping changes, or delay and amend them so that the public safety of New Yorkers is not irreparably damaged. The magnitude and substance of the changes, particularly those related to discovery, clearly reflect that these measures were rushed through, without any input from the law enforcement professionals who will actually be charged with trying to implement these new rules."
"Barring any last minute changes to the law, prosecutors and law enforcement agencies statewide will struggle mightily to comply with the expanded and accelerated discovery requirements.  Compiling and reviewing discovery is a labor-intensive process that requires appropriate staffing levels and up-to-date secure technology.  District Attorney's offices, police departments, 911 call centers, crime laboratories and many other entities need the tools and staff to be able to retrieve, prepare and exchange discovery.  The unwillingness to appropriate funds for these changes will only cause victims to be victimized again when prosecutors are unable to perform the basic functions of their offices," said Swanson.
Chautauqua County Sheriff James Quattrone said: "As County Sheriff, my work is guided by the critical mission of serving and protecting the people of Chautauqua County. The 'reforms' that have been forced on us by New York City lawmakers will undermine that mission by requiring that we release most of the individuals we have arrested, back into the community, with nothing more than an appearance ticket. It truly defies common-sense and has provoked deep concern among those of us in law enforcement."
Harry Snellings, Chief of Police for the City of Jamestown, said: "We have dedicated police officers patrolling Jamestown 24/7 and working hard to keep our neighborhoods safe. It is a tough job, especially when you see the human toll that crime takes on its victims and our officers. Under these new so-called 'reforms,' the perpetrators of many serious crimes, such as burglary in the second degree, arson, robbery in the second degree, and unlawful imprisonment, will be processed and then released back into the community. As we continue to struggle with the drug epidemic in our state, that fight has now been made tougher.  All drug charges, with the exception of operating as a major trafficker, will result in individuals being released without bail set. I am concerned for our city, our residents and for my officers."
Assemblyman Andrew Goodell said: "The first responsibility of both government and law enforcement officials is to keep citizens safe. Yet, these criminal justice changes will actually achieve the opposite by turning those accused of misdemeanors and many felonies back out onto the street. These changes will tilt the scales of justice in favor of criminals at the expense of law-abiding New Yorkers. This is a dangerous and fundamental shift in our criminal justice system and one that will have long-term consequences if it's not corrected."
David C. Ortolano, Chief of Police for the City of Dunkirk said: "Our officers put their lives and safety on the line every day to help keep our citizens safe. Their efforts are working. Over the past five years, violent and property crimes decreased significantly. However, these reforms are poised to undo the great strides we have made. While these bail reforms were cited as a way to help the poor in our communities, the reality is that they may be the ones most hurt by these changes as the quality of life in their neighborhoods and communities will be adversely affected by these reforms."
Borrello pointed to two new proposals advanced this week by State Senators Serino and Gallivan that would address two of the most glaring shortcomings of the reforms. The first bill would allow judges to consider a perpetrators' dangerousness when determining whether a defendant should be held pre-trial; New York will be one of only four states that does not allow such a consideration. The second bill would help protect victims of domestic violence by requiring that crimes under the aggravated family offense statute qualify for bail and pre-trial detention.
"My sincere hope is that the warnings shared by everyone here today, along with those aired by law enforcement professionals across New York, will convince the Governor and legislative leaders to reverse course on these radical changes. Two important proposals were advanced this week by members of the Senate Republican Conference, and with the strong support of victim advocates and several of the state's district attorneys," Borrello said.  "These measures should serve as a starting point for a constructive, bipartisan effort on this issue. New Yorkers need us to craft true reforms that will advance the objective of equal justice for all – which everyone supports -- while preserving public safety and the effective functioning of the criminal justice system."
####