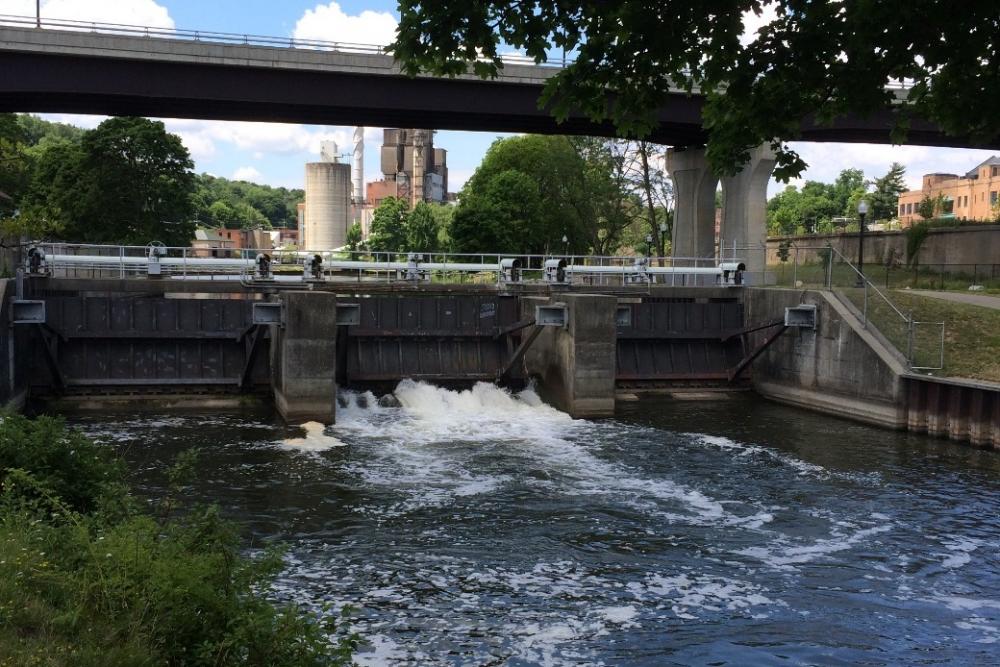 Pictured, the Warner Dam near the Washington Street Bridge.
JAMESTOWN, N.Y.:-- The Chautauqua County Division of Planning and Community Development has announced that the Jamestown Board of Public Utilities (BPU) will be opening the Warner Dam starting on October 17, 2019 so Chautauqua Lake's water level can trend downward for the winter season. 
"In late October, we try to drop the lake level from the summer recreational season level of 1,308.2 feet to a lower winter elevation goal of 1,306.0 feet," said Dave McCoy, Chautauqua County Watershed Coordinator.  "We are rarely able to get much below 1307.0 due to the wet weather we typically experience in the fall."  
The Warner Dam on the Chautauqua Lake Outlet exists to sustain Chautauqua Lake's water level during the summer recreation season. It also helps mitigate flooding around Chautauqua Lake and downstream along the Chadakoin River.  A Rule Curve, which was formulated in the 1980s, governs the operation of the Warner Dam by correlating established seasonal lake levels with low and high flow conditions for the Chadakoin River.  
Individuals who still have boats in Chautauqua Lake are encouraged to pull them out as soon as possible. If boaters experience issues, the Division recommends using the public boat launch at Long Point State Park, which is considered by many experienced boaters as the best public ramp to use in low lake level conditions. 
"This summer was a good one on Chautauqua Lake," said Chautauqua County Executive George Borrello.  "We saw the overall usability of the lake improve as strategic herbicide applications helped control the invasive Eurasian watermilfoil and curly-leaf pondweed in the South Basin. North Basin stakeholders also experienced improved shoreline conditions through the addition of two Mobitracs. These amphibious vehicles, deployed by the Town of Chautauqua, collected over 600 tons of floating near-shore vegetation. Good weather and the excellent collaboration, through the Memorandum of Agreement for the Chautauqua Lake Weed Management Consensus Strategy, helped position us for a great year. I look forward to the 2020 summer season as we intend to deliver an even more effective, collaborative lake maintenance program." 
###