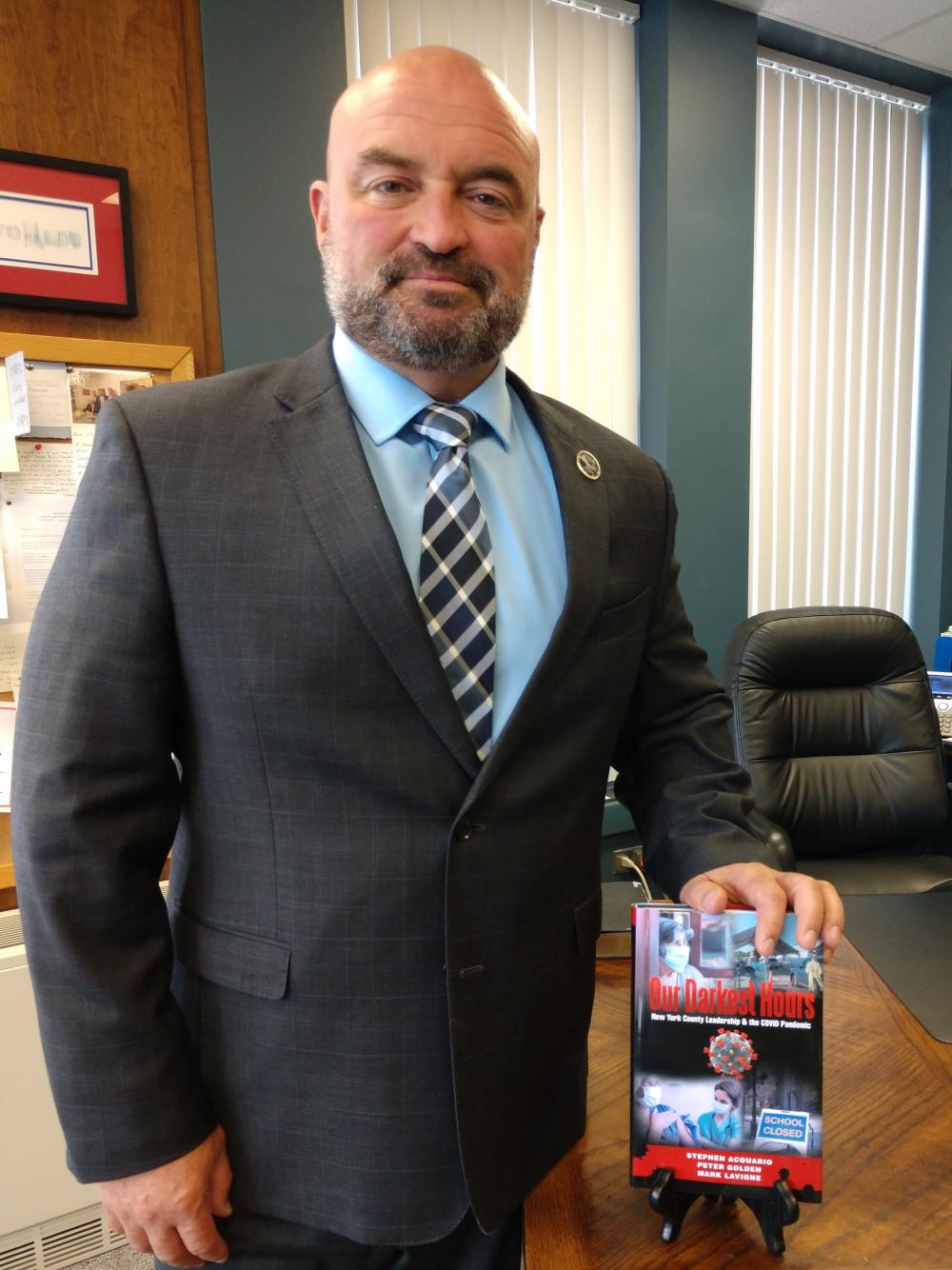 Pictured, Chautauqua County Executive PJ Wendel holds a copy of the book, Our Darkest Hours: County Leadership and the COVID Pandemic. Wendel joined other leaders across the State by providing a first-person account for the book.
MAYVILLE, N.Y.:--Chautauqua County Executive PJ Wendel recently announced the release of a new book, Our Darkest Hours: County Leadership and the COVID Pandemic, which chronicles the county's response through the first year of the COVID-19 pandemic. The book was commissioned by the New York State County Executives Association, through the New York State Association of Counties, to document and share the hard lessons learned by leaders across the State during this once-in-a-century public health crisis.
"The COVID-19 Pandemic completely changed the way we look at our daily lives," said Wendel. "We had too many family members and friends who tragically lost their lives and too many livelihoods were disrupted as businesses closed or faced restrictions in order to contain the spread of the virus. When NYSAC first approached us about its project to chronical what county executives across the state faced with COVID-19, it was not its intention to write a book. However, as our responses came in the project turned into something much bigger."
Part I of the book comes directly from the written or oral histories submitted by county executives to document what happened in their counties. These riveting first-person accounts provide a glimpse into the fear, struggle, triumph, and pain that local leaders faced as they worked to protect their residents from an invisible and insidious enemy.
"The work that we did to stop the spread of the virus and get our communities vaccinated may be the most important work we ever do as county leaders," said NYSCEA President Marcus Molinaro. "We felt that we owed it to the county leaders who come after us to provide an accurate and unvarnished account of what happened so that when it's their turn to step up as onsite incident commanders, they don't have to re-learn the same hard lessons that many of us did."
Part II of the book provides a public policy account of the fractured federal and state response to COVID-19 and explores the economic impact of New York on Pause, the unprecedented state executive powers, and the diminution of local home rule. The Appendices include material relating to congressional actions, the state's executive orders, and cases and COVID deaths by county by month from March 15, 2020 to March 15, 2021.
"This book is a commemoration of the struggle and the hardship and what the county leaders went through during the height of the pandemic," said NYSAC Executive Director Stephen Acquario. "They were the ones on the ground working 15-hour days, seven days a week for 150 days, coordinating efforts to secure PPE, enforce mask and social distancing mandates while also encouraging residents to check on their neighbors and support struggling local businesses. These are stories that needed to be documented for posterity. They must not be forgotten."
Our Darkest Hours: County Leadership and the COVID Pandemic was written by Stephen Acquario, Mark Lavigne and Peter Golden. Softcover copies are available for purchase from Archway Publishing and Amazon for $19.99 and an e-book version can be purchased for $4.99. All proceeds from the book will be donated to Feeding New York State, which supports the 10 regional food banks that have been feeding the hardest hit New Yorkers.
Below is an excerpt from Chapter 4 of the book, which was written by Wendel:
I call March 15, 2020, our day of infamy in Chautauqua County. That was the day I declared a state of emergency. By then, I'd served as the county executive for less than three months. And here is what I learned: there was no book on the shelf that said, "Dust this off in case of emergency."
Our first case was eight days later. A 103-year-old woman was admitted to the hospital for another issue. She had no symptoms of COVID-19, but she tested positive for the virus. She fully recovered and was discharged from the hospital. Tragically, others would not be so fortunate.
I put together a team to confront the problems I knew were on their way—the county public health director; three physicians; our emergency services director; the sheriff; and our logistical people. We worked on our approach to informing the public, making sure it was concise and easy to understand. We sent press releases to the newspapers and posted to Facebook, on my page and the page of the county health department. That evolved into a daily video as the infection rate rose—we were tracking the clusters by zip codes—and once the numbers started to come down, we appeared on fewer occasions until another uptick sent us back to our daily presentation.
One challenge we faced was that we're the only county in New York that borders Pennsylvania on two sides. Erie County is a dense population center, and Warren County is the opposite. Erie is a large shopping center, and Warren is home to a lot of commuters. Therefore, as Pennsylvania was opened, our economy shifted to another state; people were even dining out because Pennsylvania's restaurants were open before ours. So not only were we losing money that, with the pandemic and the shutdown, we couldn't afford to lose, but COVID-19 was being carried back and forth from shoppers and commuters, complicating our ability to track the spread.
###