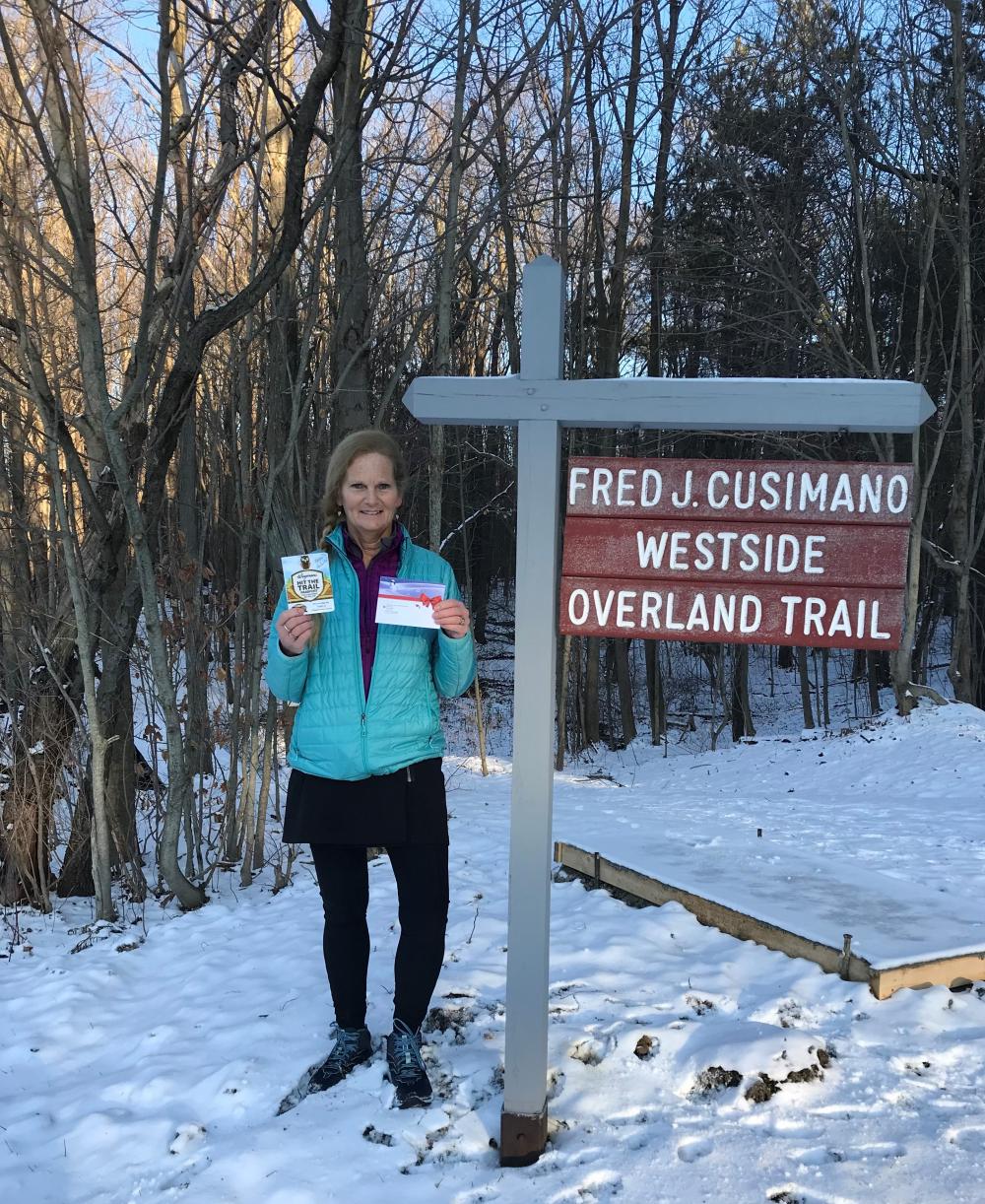 Pictured above, Martha Anderson, the 2021 Wegmans Hit The Trail Passport Winner.
MAYVILLE, N.Y.: - Martha Anderson completed the Wegmans Hit The Trail Passport in November 2021.  She hiked all three trail systems (in entirety) highlighted in the Passport:  the Chautauqua County Overland Trails – the Earl Cardot Eastside Overland Trail and the Fred J. Cusimano Westside Overland Trail; and the Chautauqua County Rails to Trails system.  
To complete the Passport, Anderson hiked over 72 miles of Chautauqua County trails!
"I logged a lot of beautiful miles and took lots of friends on trails they had never been on," said Anderson. "It's great to share our resources and beautiful trails and parks with friends and newcomers.  It was a great experience, and I had so much fun seeing all the trails end to end."
She looks forward to many more years and miles of enjoyment on Chautauqua County trails.
The Wegmans Hit The Trail Passport is sponsored by Wegmans.  Since 2005, Wegmans has partnered with town and city recreation programs and park conservancy groups to encourage folks to take advantage of their community's town and county trails.  Wegmans considers the Passport as part of their commitment to helping their customers enjoy a healthier, better life through great food and healthy activity. 
Are you ready to experience outdoor adventure in Chautauqua County for yourself?  Pick up a Trail Passport at Wegmans, 945 Fairmount Ave., Jamestown, N.Y. or stop in the Chautauqua County Health Department at 7 North Erie St., HRC Building in Mayville, N.Y.  Explore our rural county on the County Trails and unused rail corridors winding through picturesque countryside.  Our trails give you access to some of the most stunning natural beauty and enjoyable wildlife areas in western New York.  Trail maps are divided into segments; you can complete a trail over the course of multiple days or months, and in any sequence, as long as you capture the distinctive seal for each trail segment in the frames indicated in the passport.  When you complete one of the three trails (in whole), you will receive a reusable Wegmans shopping bag.  When you complete all three trails (as Anderson did), you will be entered in a drawing to win a $250 Wegmans Gift Card.  Gift card drawings take place in November.      
We hope to see you on the trails!
###