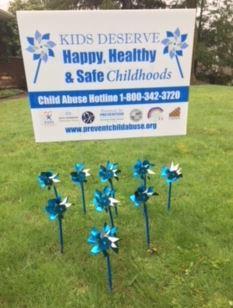 MAYVILLE, N.Y.: - April is National Child Abuse Prevention Awareness Month.  Chautauqua County and communities throughout the country devote this time to raising awareness of child abuse and neglect by endorsing resources and agencies which support families, acknowledging the positive impact of families and communities working together, and promoting the social and emotional well-being of children and families. During the month of April, communities have been encouraged to share child abuse and neglect prevention awareness strategies and activities that promote prevention across the country.
Times are different this year. Over the past several weeks, life has changed dramatically and our community is facing unprecedented challenges and uncertainty. We are being asked to keep children and families safe and supported, amid a global pandemic.  A pandemic that has forced families to self-isolate, practice social distancing and spend more time in their homes.  It has forced essential employees in Child Welfare and Law Enforcement to continue to respond to the immediate safety and crisis needs in the community. It has forced mandated reporters such as teachers, school social workers and coaches, legally obligated to report signs of child abuse and neglect, to be largely disconnected from children. The overall implications are families without sufficient parenting support, children without safe adults to disclose their abuse to, and an overall increased risk for child abuse and neglect.  
"Already struggling families are struggling more," said Leanna Luka-Conley, County DHHS Deputy Commissioner of Children, Adult and Family Services.  "They are struggling with financial stressors caused by unemployment or underemployment, the stress of being overcrowded and cooped up together without a needed break, and anxiety over food insecurity and illness.  It adds stress onto stress which can lead to abuse."
"The entire community is relied upon to help keep families and children safe, especially during this challenging time.   Many of these children are being isolated in very bad home situations, such as parental struggle with alcohol and substance abuse, domestic violence, and physical/sexual abuse.  Without the community continuing to monitor these vulnerable households, it places our children and families at greater risk," added Luka-Conley.
The Chautauqua County Sheriff's Office is an important partner. 
"We are concerned with the safety of all people in the county," said Sheriff Jim Quattrone.   "During these uncertain times, we will continue to reach out to the youth in our community by utilizing our school resource officers in and around the school districts they are assigned. Some of our school resource officers are assisting the school districts with delivering meals and curriculum as needed.  We are encouraging all of our officers to have positive interactions with youth, while also making sure proper social distancing is practiced."
Schools continue to play an important role in preventing child abuse and neglect at this time. For example, Jamestown Public School Superintendent Bret Apthorpe stated, "We have crafted a whole new administrative branch called Student Support Services that is dedicated solely to our most vulnerable children."
There is no shame in asking for help during times of unprecedented stress. To those who feel at risk of causing harm to their children, DHHS suggests:
Call a friend.

Call a pediatrician or other health care provider.

Send your child to a quiet corner.

Take a walk outside (while maintaining a safe social distance of at least six feet from anyone who doesn't live in your household).

For infants, place them in a crib, step away and draw deep breaths to cool off.

Call or text a helpline:

Chautauqua County Crisis Helpline 1 (800) 724-0461

Crisis Textline Text "Help" to 741-741

National Suicide Prevention Lifeline 1 (800) 273-8255

National Parent Helpline 1 (855) 427-2736
Community members need to watch out for their friends and step in if they think someone needs help.  Take notice of what is happening in your neighborhood during this time of isolation.  Reach out through phone calls, Skype, Facetime, mail, friendly drive or walk-by's to monitor those around you.  
If you suspect child abuse or maltreatment call the New York Statewide Central Registry (SCR) 1-800-342-3720.  If you believe a child is in immediate danger call 911.
Every child deserves to grow up in a safe, stable, and nurturing environment.  Children are the foundation of our society, our community and our future. Children raised in loving and supportive environments are more likely to prosper academically and financially, becoming successful contributing members of society. The Chautauqua community must be a leader and champion for all of our children. We need to enhance the success of our community by promoting programs and policies that seek to support the lives of children and families.
###