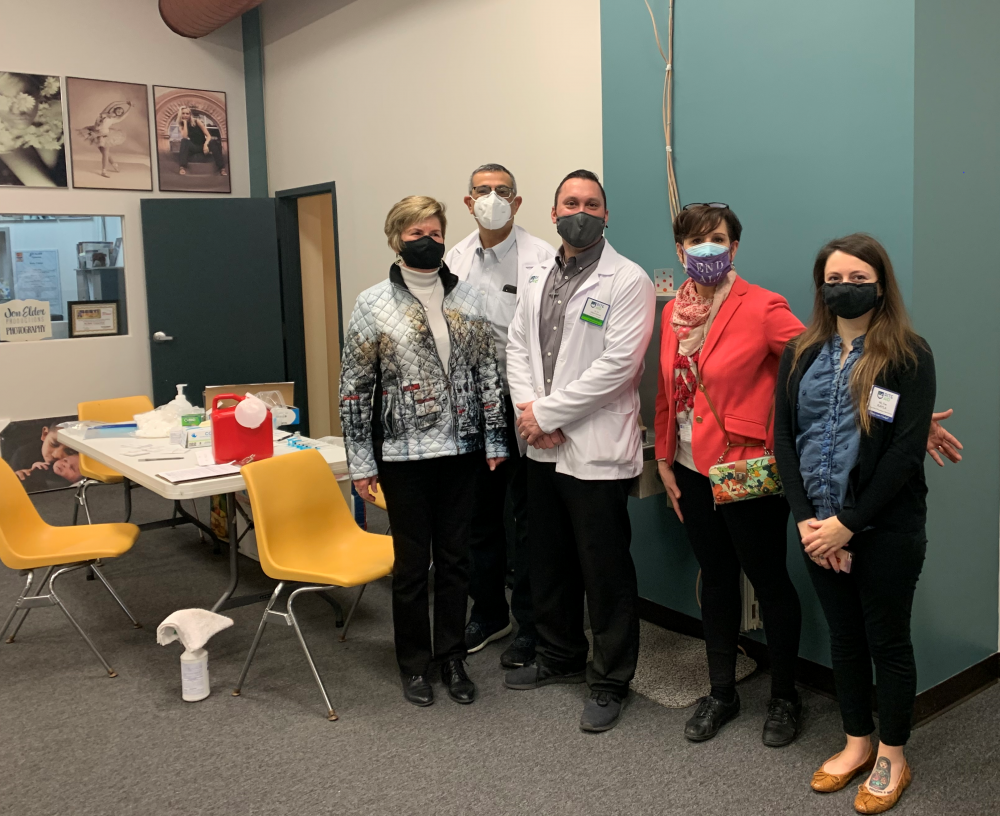 Pictured from left to right: Sharon Hamilton, Jamestown Housing Authority Board; Tom Lovecchio, Rite Aid Pharmacist, Adam Karnes, Rite Aid Pharmacist;  Dr. Mary Ann Spanos, OFAS Director; and Kayla Brewer, Rite Aid Staff.
MAYVILLE, N.Y.:-- The Chautauqua County Office for Aging Services (OFAS) recently partnered with Rite Aid to help senior housing residents in Jamestown, N.Y. receive COVID-19 vaccines.
"While all pharmacies have been focused on vaccinating seniors over the last few months, on-site clinics like these bring vaccines to people who need it most, where they are," said Dr. Mary Ann Spanos, OFAS director.  
"We were excited to hold a vaccine clinic for senior housing residents in Jamestown," said Chautauqua County Executive PJ Wendel.  "These residents are a priority, because of transportation and computer issues and shared spaces in these buildings. We were pleased to help get these seniors vaccinated as soon as possible."
Rite Aid held an on-site vaccine clinic, March 12, 2021 at 21 West 3rd St. in Jamestown. Nearly 200 people living in downtown Jamestown, mainly at Covenant Manor, the Hotel Jamestown, and High Rise buildings, were vaccinated during the clinic.  Covenant Manor Staff and Housing Authority Board members also provided support for the clinic. 
Rite Aid will return to Covenant Manor Friday, April 9th, to provide residents vaccinated at the first clinic with their second dose. 
###