OFAS, Hurlbut Memorial United Methodist Church, and First Baptist Church Mayville Worked Together to Keep the Santa For Seniors Project Going Despite the COVID-19 Pandemic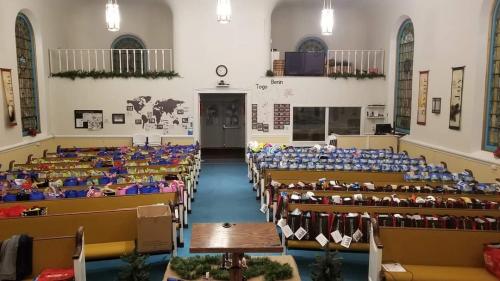 Pictured above, bags prepared for this year's Santa for Seniors Project fill the sanctuary of the First Baptist Church in Mayville, N.Y.
Pictured below, some of the 160 bags are loaded into a vehicle for distribution to area seniors.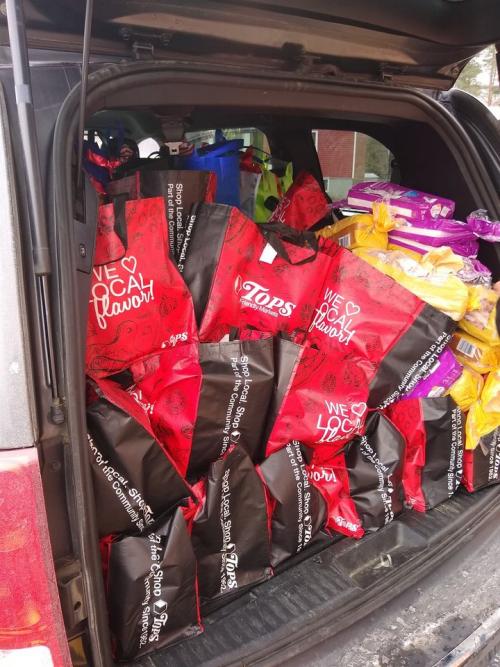 MAYVILLE, N.Y.: -- The Office for Aging Services (OFAS) has had a project for many years to bring Christmas to isolated area seniors who might not celebrate the holiday otherwise.   This year due to the COVID-19 pandemic and increase demands on OFAS staff and downsizing of staff, the project was in jeopardy.  
"I did not know how we would pull off this project that brings so much joy to so many people without help, a lot more help, from the community," said Dr. Mary Ann Spanos, OFAS Director. "But as usual the Chautauqua County community came through!"
Dr. Spanos explained Hurlbut Memorial Church's Rev. J Paul Womack Christmas Basket Fund has done fundraising to provide all the meals for the program for the last seven years.  However, this year, led by Debbie and Mark Perry, they went above and beyond to help solicit donations, put together the meal using local vendors, and coordinated the volunteers for delivery.  
"Mark and I felt so blessed to be able to take on the Rev. J Paul Womack Christmas Basket Fund at Hurlbut Church," said Debbie Perry. "This year our donors really stepped up giving!  Debbie Caruso at Hurlbut is so wonderful too!  We also feel it is so much better to give than to receive and the ability to give back to the seniors in our community is so essential - especially in today's world! So I guess you could say, we are honored, privileged and blessed to bring smiles, tears and joy to the senior members of our community especially during the Christmas season!"
In addition, the First Baptist Church in Mayville took on the task of soliciting donations and coordinating the assembly of the 160 gift bags.   Kelly Prewitt and her team at the church were so successful that each senior got two bags this year.  One contained small gifts including handmade blankets and laprobes.  The other contained household necessities including hygiene products. 
 "It was amazing to see how our community responded so positively when presented with this opportunity to care for our seniors, even when so many families are struggling," said Prewitt. "It was a privilege to help out with the Santa for Seniors project and our church is excited about being involved even more in the coming years."
"Thanks to the coordinated efforts of these three organizations, we were able to bring the Holiday spirit to 159 area seniors," said PJ Wendel, Chautauqua County Executive.  "We want to thank all the county employees, area churches, organizations and individuals who donated, packed, and helped deliver the bags.  Without their support this project, which brings so much joy, would not be possible."
###