Consistent with trends across the state and country, new COVID-19 cases surged in December 2020 and January 2021. The following two charts display cases per month and daily positive reports of COVID-19 infection respectively.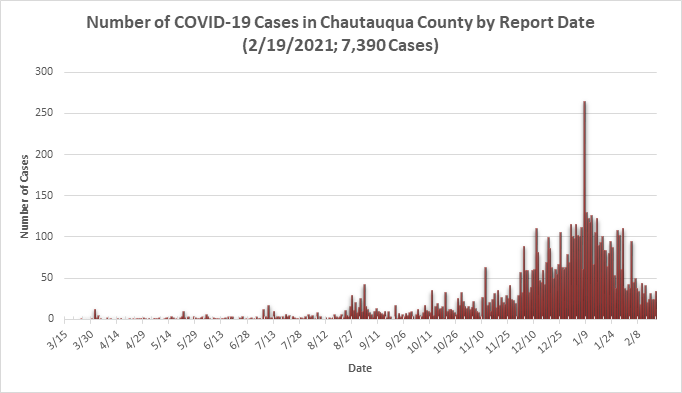 Residents should continue to take standard COVID-19 precautions and follow NYS and CDC COVID-19 guidelines. New variants around the globe continue to threaten progress made toward overcoming the pandemic.
As of February 13, 2021, Chautauqua County 11,457 residents have received a first dose of COVID-19 vaccine and 506 have received the second dose. Full immunity is not achieved until 14 days after the second dose. The following two charts demonstrate this.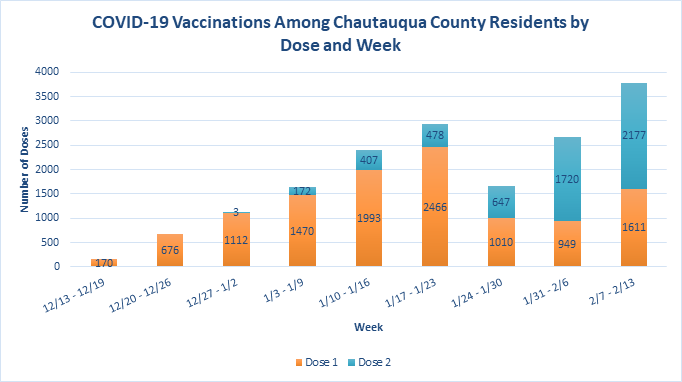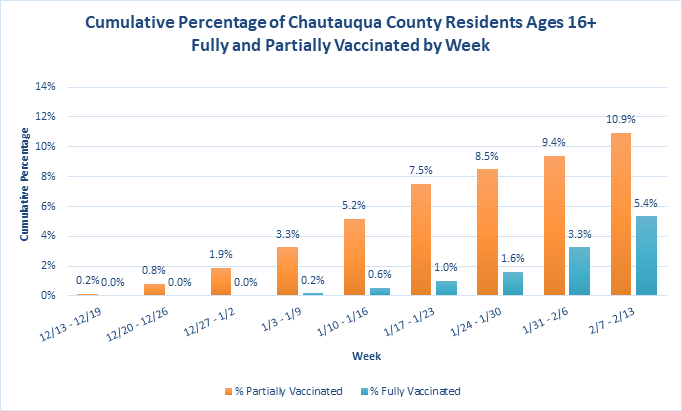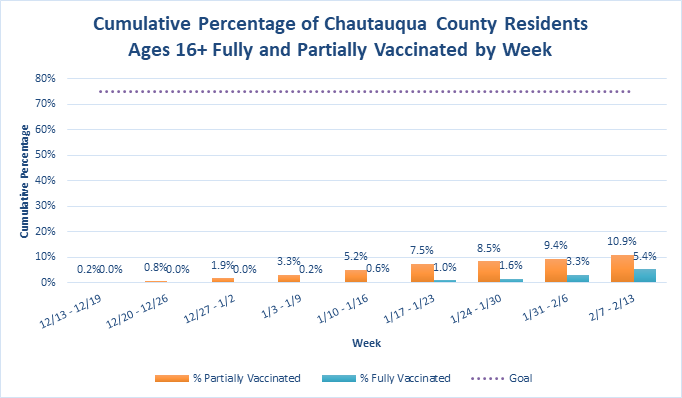 Fair and equitable distribution of vaccine is everyone's goal.  The following charts depict race, ethnicity and language indicators. The source of the data is the New York State Immunization Information System (NYSIIS), accessed February 16, 2021. Data are preliminary and subject to change.
Chautauqua County Residents Who Have Received COVID-19 Vaccine by Race:
 

First Dose

Second Dose

 

Race

Count

Percent

Count

Percent

County Rate

White

8500

72.61%

3848

65.74%

94.60%

Other Race

1845

15.76%

1155

19.73%

N/A

Not Listed

1174

10.03%

759

12.97%

N/A

Black or African-American

76

0.65%

38

0.65%

3.70%

Asian

60

0.51%

36

0.62%

0.90%

American Indian or Alaska Native

52

0.44%

17

0.29%

1.00%

Total

11707

100.00%

5853

100.00%

 
Chautauqua County Residents Who Have Received COVID-19 Vaccine by Ethnicity:
 

First Dose

Second Dose

 

Ethnicity

Count

Percent

Count

Percent

County Rate

Not Hispanic or Latino

9114

77.85%

4581

78.27%

92.80%

Not Listed

2410

20.59%

1172

20.02%

N/A

Hispanic or Latino

183

1.56%

100

1.71%

7.20%

Total

11707

100.00%

5853

100.00%

N/A
Chautauqua County Residents Who Have Received COVID-19 Vaccine by Language Preference:
 

First Dose

Second Dose

 

Language

Count

Percent

Count

Percent

County Rate

Not Listed

8546

73.00%

3678

62.84%

N/A

English

3151

26.92%

2174

37.14%

92.2% English Only

Spanish

10

0.09%

1

0.02%

4.80%

Total

11707

100.00%

5853

100.00%

N/A