Chautauqua County COVID-19 cases from March 23, 2020, when the first cases was announced, through September 9, 2020 – What the data tells us:
Cluster Updates:
Fieldbrook Foods Inc.
As of 9/11/2020, there have been 82 COVID-19 cases associated with Fieldbrook Foods Inc. in Dunkirk, NY. Of these cases, 61 are employees and 21 were contacts of workers in the community. All 21 of the community contacts have recovered, and 57 of the employees have recovered. There are currently 4 active cases among Fieldbrook employees.
Fredonia State University
As of 9/11, 2020, 84 Fredonia State students have tested positive for COVID-19 since the beginning of the semester. Of these cases, 54 are still active, and 30 have recovered.
Hospitalizations:
Of the 534 COVID-19 cases recorded since March 2020, 32 have been hospitalized (6%).
Symptoms:
Symptoms of Chautauqua County COVID-19 cases (534 total cases as of 9/9/20) have been reviewed.
-381 (71%) experienced symptoms
-143 (27%) had no symptoms
Of the 381 individuals who had symptoms, data about specific symptoms is readily available for 316 people. The most common symptoms reported among local cases include cough (53%), headache (48%), fatigue (43%), fever (41%), muscle aches (38%), congestion (37%), loss of taste (35%), and loss of smell (33%).
A breakdown of presence of symptoms is provided by age group below. While percentages are low among people <10 and 95+, it should be noted that there are low numbers in these age groups, and the rates are not stable. Age does not appear to affect presence/absence of symptoms based on the age groups with stable numbers.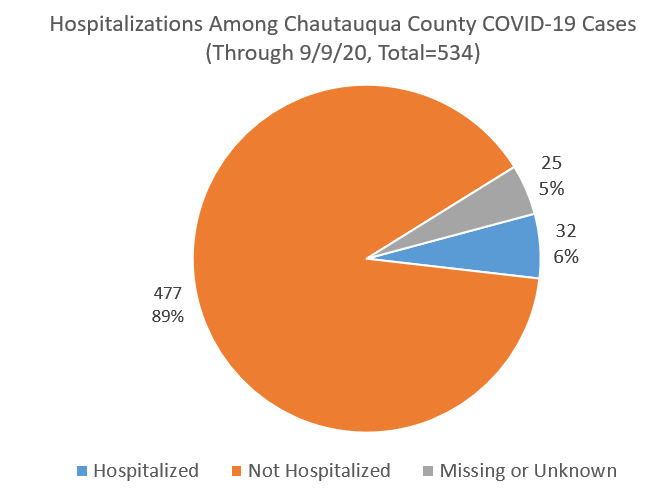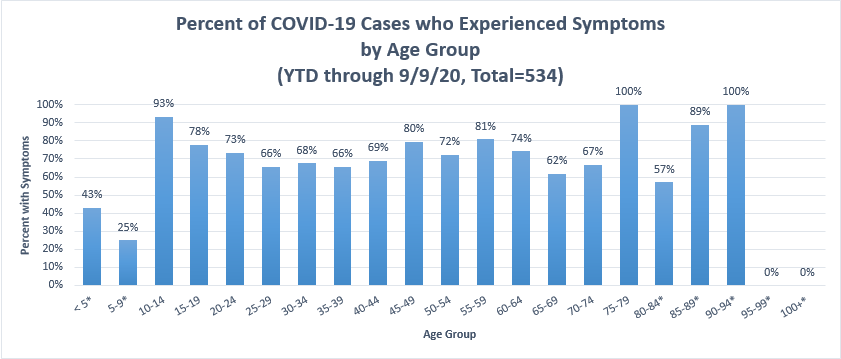 *Fewer than 10 individuals, this percent is not stable.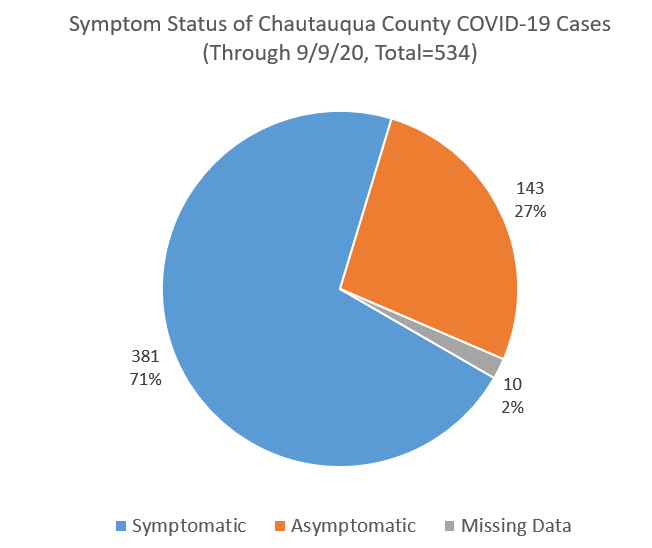 Symptoms Experienced by Chautauqua County COVID-19 Cases,
Total with Symptoms Specified=316 out of 381 total symptomatic persons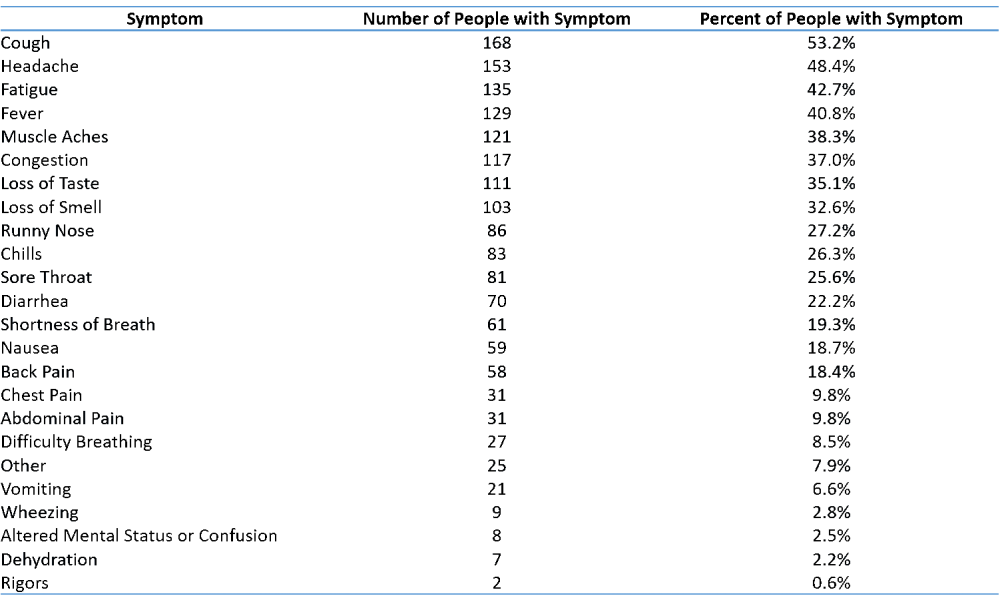 The CDC continues to offer the following guidance to Stop the Spread of COVID-19 www.cdc.gov/coronavirus Stay well Chautauqua County. Take care of yourself and others.
• Stay at least 6 feet from other people (about 2 arms' length);
• Cover your cough or sneeze with a tissue, then throw the tissue in the trash and wash your hands;
• When in public, wear a cloth face covering over your nose and mouth;
• Do not touch your eyes, nose, and mouth;
• Clean and disinfect frequently touched objects and surfaces;
• Wash your hands often with soap and water for at least 20 seconds; and
• Stay home when you are sick, except to get medical care.