The Chautauqua County Department of Health and Human Services has received many questions regarding the requirements around wearing masks in public.  Governor Cuomo has stated that wearing face-coverings is a law.
On March 2, 2020, the NYS Legislature passed Senate Bill S7919, giving the governor the authority to issue by executive order any directive necessary to respond to a state disaster emergency.  This legislation backs the following executive orders (summarized below) with the force of law unless repealed, modified by the State Legislature, or overturned in court, thereby requiring masking when in public if a distance of at least six feet from those outside one's household cannot be maintained:
202.16 (effective April 15):  For all essential businesses or entities, any employees who are present in the workplace shall be provided and shall wear face coverings when in direct contact with customers or members of the public. Businesses must provide, at their expense, such face coverings for their employees;

202.17 (effective April 17):  Any individuals over age two and able to medically tolerate a face-covering shall be required to wear a mask when in public and unable to maintain, or when not maintaining, social distance;

202.18 (effective April 17):  Any individuals over age two and able to medically tolerate a face-covering must wear a mask while utilizing or driving public transportation or private transportation carriers or other for-hire vehicles;

202.34 (effective May 29):  allows business operators and building owners to deny admittance to individuals who are not wearing masks.
"Face-coverings and social distancing are our best and most effective defense against transmission of COVID-19.  Masks protect others when in public and show respect and kindness." says, Christine Schuyler, Chautauqua County Public Health Director.  "We have seen a number of asymptomatic cases in Chautauqua County.  Wearing a mask in public is one of the easiest things each of us can do to protect our neighbors."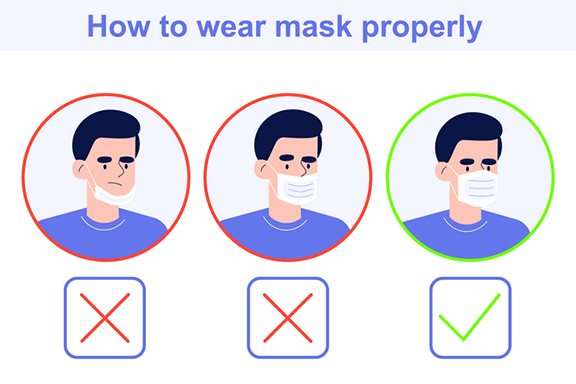 Use of Cloth Face Coverings to Help Slow the Spread of COVID-19
Why do you need to wear cloth face coverings?
In light of new data about how COVID-19 spreads, along with evidence of widespread COVID-19 illness in communities across the country, CDC recommends that people wear a cloth face covering to cover their nose and mouth in the community setting. This is to protect people around you if you are infected but do not have symptoms.

Should cloth face coverings be washed or otherwise cleaned regularly? How regularly?
Yes. They should be routinely washed depending on the frequency of use
How does one safely sterilize/clean a cloth face covering?
A washing machine should suffice in properly washing a face covering.
How does one safely remove a used cloth face covering?
Individuals should be careful not to touch their eyes, nose, and mouth when removing their face covering and wash hands immediately after removing.
When do you need to wear cloth face coverings?
A cloth face covering should be worn whenever people are in a community setting, especially in situations where you may be near people. These settings include grocery stores and pharmacies. These face coverings are not a substitute for social distancing. Cloth face coverings are especially important to wear in public in areas of widespread COVID-19 illness.
Do I still need to stay six feet away from people if wearing a cloth face covering?
Yes. Wearing cloth face coverings is an additional public health measure people should take to reduce the spread of COVID-19. CDC still recommends that you stay at least 6 feet away from other people (social distancing), frequent hand cleaning and other everyday preventive actions. A cloth face covering is not intended to protect the wearer, but it may prevent the spread of virus from the wearer to others. This would be especially important if someone is infected but does not have symptoms. View CDC's guidance on how to protect yourself.
What type of cloth face coverings should be worn?
Cloth face coverings can be made from household items or made at home from common materials at low cost.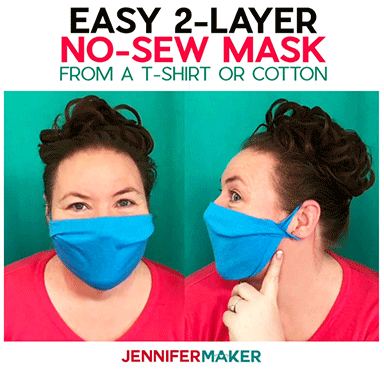 Make this mask in a matter of minutes using just a t-shirt!
More mask making ideas can be found at the bottom of this page.
Who should not wear cloth face coverings?
Cloth face coverings should not be placed on young children younger than 2 years of age, anyone who has trouble breathing, or is unconscious, incapacitated or otherwise unable to remove the cover without assistance.
Why do we recommend cloth face coverings instead of medical grade face masks?
Surgical masks and N95 respirators are in short supply and should be reserved for healthcare workers or other medical first responders, as recommended by CDC guidance.
When wearing cloth face coverings:
Make sure that they fit snugly and cover their nose and mouth.

Be changed frequently and laundered when they are soiled or wet.

Do not become complacent with other protective measures:

Do not touch the cloth covering or face.

Continue to be vigilant with thorough and frequent hand washing.

Soap and water, or alcohol-based hand sanitizer of 60%+ alcohol.

Practice respiratory etiquette and cover your coughs or sneezes.

Practice social distancing – even when wearing masks.

Stay home and help flatten the curve!
Quick Links
Purchase homemade masks locally 
Learn how to wear and make a homemade face mask
       Printer friendly version 
Learn how to make a bandana face mask in 30 seconds
Seniors in need of face masks:  Call 716-753-4471