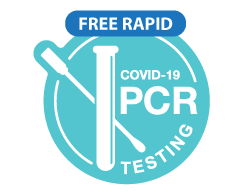 MAYVILLE, N.Y.: - The Chautauqua County Health Department reports that free COVID-19 testing will be provided in Jamestown next week on December 13, 14, and 15. Rapid, molecular Abbott ID Now tests will be performed, and same-day results will be provided to clients.
Testing Site Details
Location:
South County Office Building
110 E 4th Street
Jamestown, NY 14701
Dates and Hours of Operation:
Monday, December 13, 4:00 PM-8:00 PM
Tuesday, December 14, 10:00 AM-8:00 PM
Wednesday, December 15, 10:00 AM-8:00 PM
COVID-19 testing is available to any Chautauqua County resident who wants to be tested and is free. Pre-registration is recommended to reduce wait time, but walk-ins will be accepted until 7:00 PM as long as appointments are available. Visit the Chautauqua County Health Department website to access the online registration links: https://chqgov.com/public-health/covid-19-testing-sites
This clinic will be held indoors at the South County Office Building in Jamestown. Follow the signs to the handicap-accessible ramp, which leads to the former Chautauqua County Health Department Clinic. Clients may park along the street or in the parking garage at the corner of 4th and Spring Streets.
Face coverings are required at the testing clinic regardless of vaccination status.
The Chautauqua County Health Department is working on plans for additional COVID-19 testing clinics in the near future. Please monitor our Facebook page, website, or local news outlets for updates on this topic.
Stop the spread of COVID-19:  Get vaccinated; wear a mask; maintain a social distance of 6 feet; wash your hands often.
###