Chautauqua County Department of Health and Human Services is pleased to inform residents that a free mobile device application, called NYDocSubmit, is available for individuals to use to submit necessary documents at any time. This mobile application provides individuals who have applied for or are receiving DSS benefits to submit documentation to the DSS in a simple and fast way. The mobile application is available for download and can be used to take photos of documents and upload them to Chautauqua County HHS.  During this time of restrictions, having the ability to submit necessary documentation from the comfort of home is essential to continue supporting families in Chautauqua County. 

NYDocSubmit is a mobile application that allows certain applicants and recipients in Chautauqua County to take pictures of their documents and submit them to their local district office using their Apple iOS or Android device. There is no need for the individual to take time off from work, stand in line or travel to the district office to drop off documents.
Important: NYDocSubmit is not monitored for emergencies and is not to be used to submit an application or to submit a periodic report.
Which Social Services programs does NYDocSubmit support?
Supplemental Nutrition Assistance Program (SNAP)

Home Energy Assistance Program (HEAP)

Temporary Assistance (TA)

Medicaid
What type of documents can be submitted using NYDocSubmit?
Identification

Citizenship Status

Proof of Income

Medical Documentation

Proof of Household

Residence

Resources

Shelter/Utilities

SSN or proof of a SSN application

Other Documentation
What type of documents should not be submitted using NYDocSubmit?
NYDocSubmit should not be used to submit sensitive information, such as:
Child Protective Services (CPS) case information or to report suspected child abuse or maltreatment.

Documents that contain HIV information.

Domestic violence information.

Addresses that must remain confidential to safeguard any member of an applicant's or recipient's household.
What technology support is available for NYDocSubmit?
The Office of Information Technology Services (OITS) Service Desk supports NYDocSubmit.
Service Desk contact information:
Phone: (844) 891-1786
E-mail: fixit@its.ny.gov fixit@its.ny.gov

What is needed to use NYDocSubmit?
An Apple iOS or Android phone or tablet with a working camera and data or Wi-Fi connectivity.

Go to the Apple App Store or Google Play Store.

Search for "NYDocSubmit" (one word).

Click on GET or INSTALL.

An existing or new NY.gov ID from

NY.gov ID

.
Note: The Application requires individuals to use the latest version of the application to successfully upload document images.
How to submit document images using NYDocSubmit?
Select preferred language.

Search and select Chautauqua to submit documents.

Select one Program Area (SNAP, TA, HEAP or MA)

Select Document Category.

Capture the image of the document. Images will be subject to review and validation by the district.

Enter identifying and contact information:
Enter submission details (at least one field is required):
Social Security Number (SSN)

Client Identification Number (CIN)

Case Number

Date of Birth
Confirm or edit the information and submission details.

Submit the document.

A confirmation screen will appear following a successful upload (i.e., no "receipt" will be sent). In addition, a history of document uploads submitted under that NY.gov ID will be available in the application for 60 days after the date of image upload.

The individual should wait to receive the confirmation screen before submitting another document or closing the application, e.g., "swipe the screen."
Note: Please review and change, if necessary, information identifying the person, case, and/or document category before submitting each document to prevent incorrect submissions.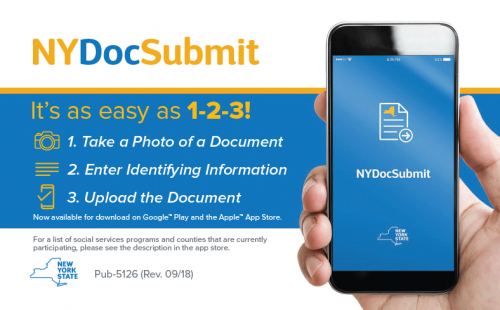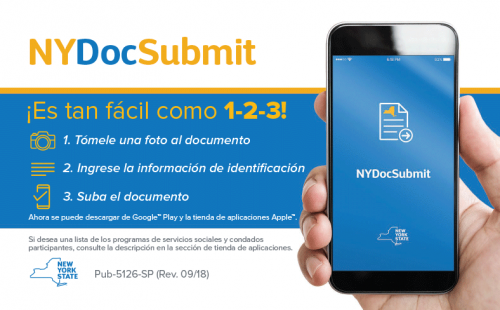 Notice to ALL Recipients of Supplemental Nutrition Assistance Program (SNAP), Temporary Assistance and Medicaid:
As a result of the COVID-19 pandemic, certain SNAP/TA/MA and SNAP only recertifications scheduled to expire in March, April and May will be extended for a period of three months.  Please see LDSS-5165 (below) for more information. *
Como resultado de la pandemia de COVID-19, ciertas recertificaciones SNAP/TA/MA y SNAP programadas para expirar en marzo, abril y mayo se extenderán por un período de tres meses.  Por favor vea abajo para más información.

SNAP (previously called Food Stamps) is an income based program and is intended to supplement the food budget of eligible households. Application for SNAP can be made online at www.mybenefits.ny.gov.   

Temporary Assistance is an income based program that covers families and single adults with ongoing and/or emergency assistance.  Applications can be obtained at otda.ny.gov/programs/applications/2921.pdf.  Completed applications can be mailed to our office or faxed to (716) 661-8225. 

Medicaid is the umbrella that supplies the financial source for many variations in medical assistance. Community Medicaid is provided mainly through Managed Care plans. Application for Medicaid can be made online at nystateofhealth.ny.gov.

HEAP can help you with heating and utility costs, and certain essential heating equipment repairs. You may apply for HEAP online at www.mybenefits.ny.gov. 
Many individuals have had their employment and income impacted by COVID-19. Anyone in receipt of SNAP whose employment has been affected, either they are currently unemployed or are experiencing a decrease in hours worked, should report these changes to Chautauqua County as soon as possible as it may affect their SNAP benefit amount. A convenient way to report this is to complete and submit an online SNAP change report form found at https://www.mybenefits.ny.gov/. The form can be sent via email to  dssfs@co.chautauqua.ny.us.  If you are now in receipt of unemployment, you can submit proof of this and other documentation using the free mobile application NYDocSubmit.