You are here: Home > Departments > Public Facilities > Airports > Jamestown Airport (JHW)
Jamestown Airport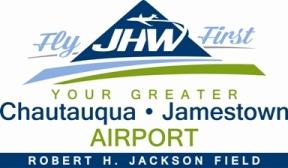 Commercial
Commercial airline service to Jamestown is currently not available. Chautauqua County is working with the US Department of Transportation, regional municipal and business partners to bring commercial air service back to the region. Please check back periodically for updates or contact the Airport Manager's office for the most up to date information.
Convenient
Free Parking
Close
10 Minutes to Downtown
Full Service FBO

Lodging

FedEx

Travel Tips

Airport Map

Both the Jamestown and Dunkirk airports offer the finest in fixed base operator services through Jamestown Aviation and Dunkirk Aviation.
Both Dunkirk and Jamestown Airports offer general aviation aircraft hangar rentals. Other services available at the Jamestown Airport include aircraft maintenance services and aircraft sales at Chautauqua Aircraft. In addition, the Federal Express office is located next to the terminal building, and the local Civil Air Patrol unit meets here weekly.
Find out more about our airports on our Facebook page.