You are here: Home > Departments > Public Facilities > Airports
***In keeping with the Governor's mandate to take prudent and appropriate measures to limit the spread of the Corona virus and specifically to promote social distancing, we will be closing the Jamestown Airport passenger terminal to public access effective Wednesday, March 18th until further notice.  The airport and air-side facilities remain fully operational for general aviation use and the airport parking lot remains open for public use.  Only the passenger terminal will be closed to the general public.  Please check back for updates.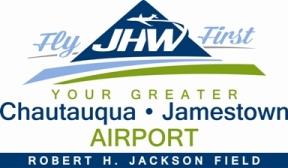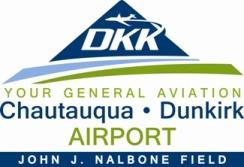 Chautauqua County operates two public general aviation airports; the Jamestown Airport (JHW) and the Dunkirk Airport (DKK).  Each airport provides a wide range of general and business aviation services, including  flight instruction, charter services, fueling services, maintenance services, hangar rentals, deicing, and other essential services.  Traditional Fixed Base Operator services are provided through a contracted third-party Fixed Base Operator.  Centric Aviation is the FBO lease-operator at both airports.  A detailed description of flight line services, fees and hours of operation can be found on their website:  http://centricaviation.com
Chautauqua County's airports are well maintained to provide access for VFR and IFR flight operations year-round.  Attended hours of operation and available services are publish in aeronautical chart supplements or online at:   https://www.faa.gov/air_traffic/flight_info/aeronav/Aero_Data/Airport_Data/
The Airports are managed by the County's Department of Public Facilities, Airports Division.  The main office is located at the Chautauqua County/Jamestown Airport, 3163 Airport Drive, Jamestown, NY, 14701, phone number 716-484-0204.  The Airports Manager can be reached during attended hours at tel.:  (716) 661-8930 or by email:  almeterr@co.chautauqua.ny.us.
Commercial air service between Jamestown and Pittsburg, PA was terminated in January 2018.  Chautauqua County, in partnership with Boutique Air, is actively pursuing establishment of commercial air service between Jamestown and Pittsburgh International Airport and Baltimore Washington International Airport.   As of January 2020, the proposed establishment of these passenger air services was under consideration by the U.S. Department of Transportation.  Any updates pertaining to commercial air service to Jamestown will be posted to this website as this this initiative progresses.