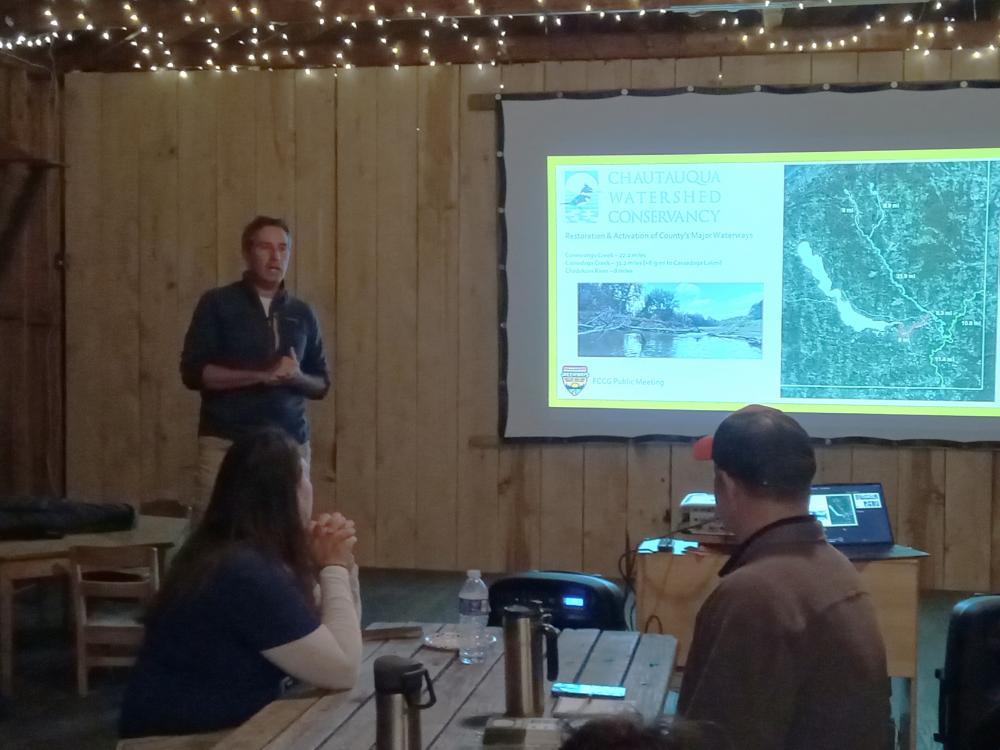 (Twan Leenders from the Chautauqua Watershed Conservancy was one of several representatives who provided an update on various trail projects in Chautauqua County during the Friends of the Chautauqua County Greenways public meeting on Oct. 11 at Panama Rocks)
PANAMA, NY - The Friends of Chautauqua County Greenways (FCCG) group recently met at Panama Rocks to share details about the various trail and waterway projects and conservation efforts they've been working on in 2023. In addition, FCCG unveiled its new logo to help raise awareness about the group within the greater Chautauqua County community.
FCCG consists of a variety of local organizations and municipalities with a goal of enhancing and conserving Chautauqua County's 700+ miles of trails that are used for snowmobiling, hiking, horseback riding, cross country skiing, mountain biking, kayaking, and more. Members include various snowmobiling clubs, Chautauqua Rails to Trails, Chautauqua Watershed Conservancy (CWC), Western New York Mountain Bicycling Association (WNYMBA), Friends of Panama Horse and Nature Trails, Boutwell Hill Ski Club, the Chautauqua County Department of Planning & Development (CCDPD) and City of Jamestown. The group is supported, in part, by the Chautauqua County Partnership for Economic Growth (CCPEG).
Among the highlights of the Oct. 11 public meeting was an update on the county-wide interactive trail map, scheduled for release in early 2024.Currently, each group maintains their own trail maps, which come in a variety of formats, creating inconsistency and confusion for trail users, while also leading to trail underutilization in some instances. These gaps make it difficult for trail users, residents, and visitors to explore and use the county's vast trail systems. But CCPEG, along with the FCCG, CCDPD, and Chautauqua County Visitors Bureau are currently in the process of working with the consulting firm of Barton and Loguidice to build an interactive, countywide outdoor recreation map and mobile app. Once completed, the map will include any and all trails in the system, regardless of intended purpose.
"We're working to develop a single user-friendly map and a mobile app to have all trail data - greenways and waterways - compiled and housed in an easy to locate and easy to edit online location across multiple webpages," explained Rebecca Wurster, Special CCDPD Projects Coordinator and CCPEG Planning Manager. "We've already reviewed and evaluated the existing mapped trails in the County, and have just about wrapped up collect inventory/GIS data of mapped and unmapped trail systems. We are also developing a streamlined process for submitting future data, which can then be uploaded to the interactive map to ensure it is being updated on a regular basis."
Other projects being highlighted included the effort by CWC to clear log jams and other debris from the Marion Cobb Waterway trail, consisting of the Cassadaga and Conewango Creeks, along with a portion of the Chadakoin River; the ongoing process by the county and Rails to Trails to address and remediate various issues of concern within their respective trail systems; the upgrades made to the mountain bike and fat bike trails located in both the Harmony and Harris Hill State Land areas, as well as at Long Point State Park; the addition of culverts to the Boutwell Hill Cross Country Skiing trail to make it easier for the trail groomer to pass over creek beds; and the work down in the various equestrian trails around the county that helps to make Chautauqua County a destination for horseback riders and clubs from across the region. 
The meeting also included a preview of some work that will be taking place in 2024, including the effort by the City of Jamestown to develop a pump bike track in Jackson-Taylor Park, adjacent to its Riverwalk. The equestrian trails are also hoping to widen at least a portion of their trail system to allow for coach travel. And ongoing work is also planned for all other trail systems as well.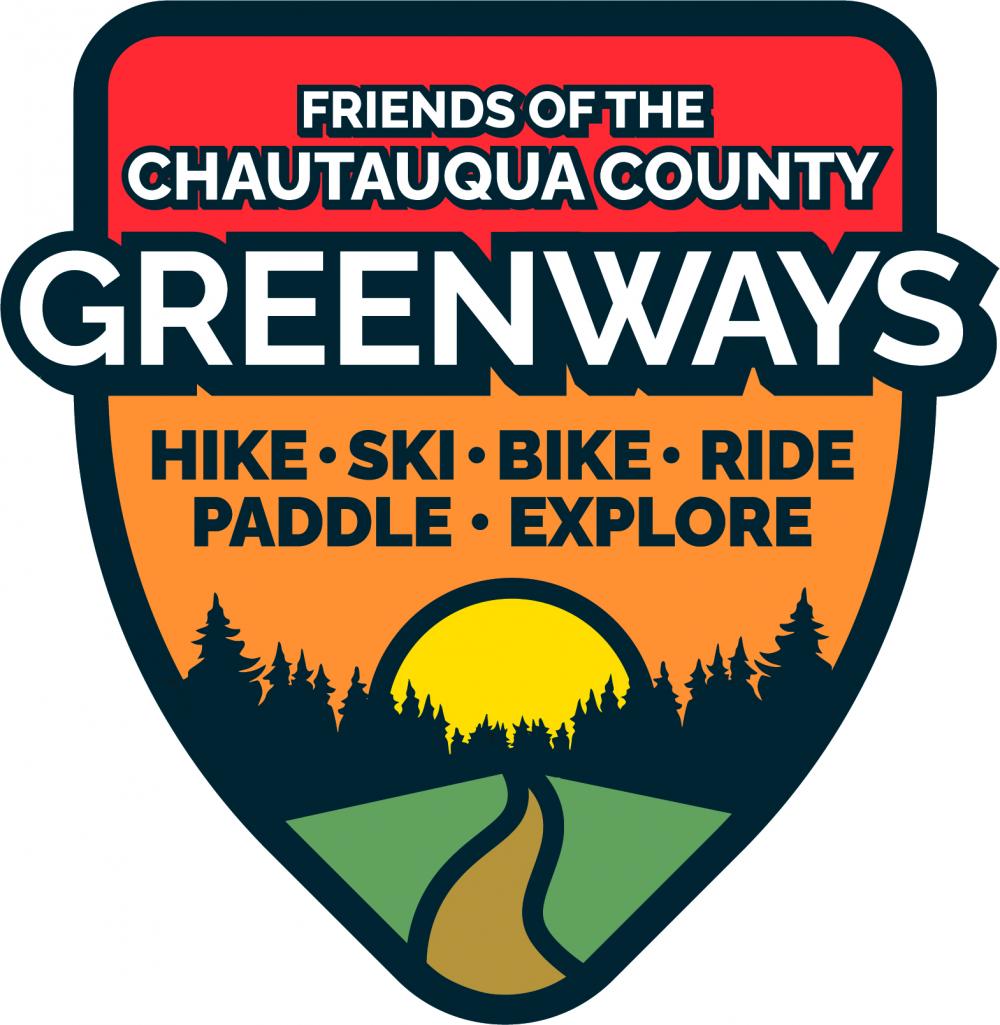 (The new logo of the Friends of the Chautauqua County Greenways group, unveiled during the groups recent public meeting on Oct. 11 at Panama Rocks.)
Finally, FCCG unveiled its new logo, designed by Kellogg Design in Lakewood, NY and intended to help brand and raise awareness about the group and its mission of working together to promote all trail systems within the county.
"This will be the official logo for the Friends' Group. We also hope to make it into a patch that you can purchase," explained Jacob Bodway, CCPEG Trail Coordinator. 
Both Wurster and Bodway said that the next public meeting of FCCG will take place next spring. At that time, the interactive trail map should be completed and ready to be presented to the public.
For more information on the FCCG and to keep up with the latest news involving the county's vast trail system, follow their group page on Facebook.
About CCPEG – The Chautauqua County Partnership for Economic Growth serves as the main convener of economic development partners and resources to advance key projects that achieve economic prosperity in Chautauqua County. It also serves as the catalyst and broker of resources for advancing economic prosperity efforts and is the central coordinating entity for the formation, retention, development, and attraction of quality jobs and advancements to the quality of life. For more information, please visit chqpartnership.org.
About FCCG – The Friends of Chautauqua County Greenways is housed under CCPEG and is an organization whose aim is to collaborate and build on private/public partnerships to position themselves to raise the necessary capital and programmatic resources to realize the primary objectives outlined in the 2012 Greenway Plan.