★ ★ ★ ★ ★
Tuesday Nov. 3, 2020 Election Notice
All Chautauqua County Poll Sites will be open 6 a.m. to 9 p.m. Election Day.
or by phone to 716-753-4580 (8:30 a.m. to 4:30 p.m. daily)
or Fax Absentee Ballot Applications to 716-753-4111
All e-mail, fax or phone absentee ballot requests must include name, date of birth, registration address and address where to mail ballot.
Visit
HERE
to download a paper absentee ballot application.
Due to the worldwide COVID-19 Pandemic, NYS voters may choose "temporary illness" as the reason for an absentee ballot request.
Federal, Overseas and Military Voters can follow the link below for assistance.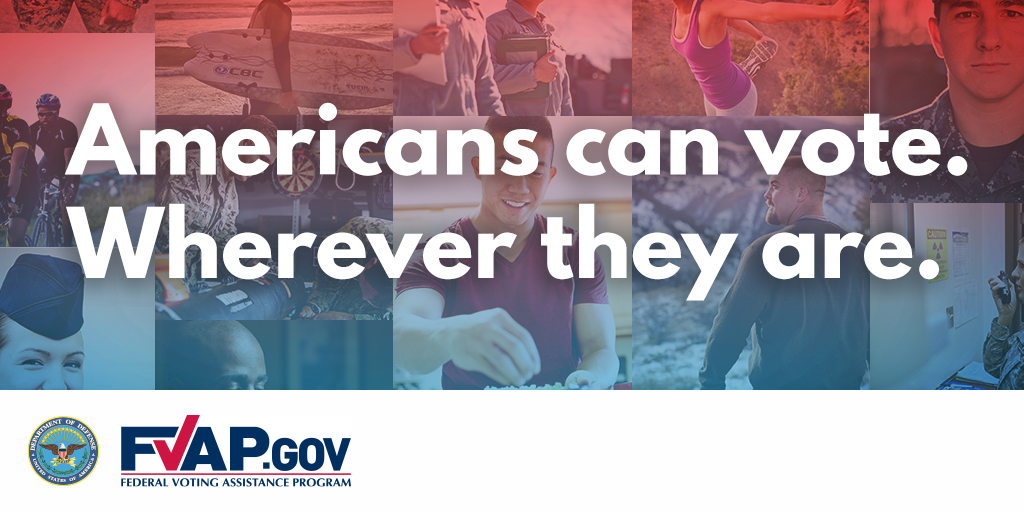 NYS voters who are residing in Chautauqua County
may vote on Election Day, Tuesday, November 3, 2020 at their assigned poll site
Or vote by way of absentee ballot
Or vote during the nine-day Early Voting period at any of the following sites.
Early Voting starts on Sat. Oct. 24, 2020 and concludes on Sun. Nov. 1, 2020.
Early Voting Poll Sites
Early Voting Hours are
Sat. & Sun. both weekends before the General Election Noon to 5 p.m.
Mon. Oct. 26th & Tue. Oct. 27th Noon to 8 p.m.
Wed. Oct. 28th, Thu. Oct. 29th and Fri. Oct. 30th 10 a.m. to 6 p.m.
If you cast a ballot during the Early Voting Period, means you will be ineligible to cast a ballot on Election Day or any subsequent Early Voting Days.
"Expected mail times, if a voter chooses to request an absentee ballot."
Absentee ballots will be mailed after the application has been received beginning Sept. 18. For voters applying for an absentee ballot by mail, the Postal Service recommends that voters apply at least fifteen days before Election Day. Applications must be postmarked by Oct. 27. For voters returning a voted absentee ballot, it must be dropped off to an Early Voting Site, Board of Elections office in Mayville, or at an Election Day Poll Site on or before Nov. 3 and if sent by mail it must be postmarked by Nov. 3, 2020 and received by the Chautauqua County Board of Elections by Nov. 10. The Postal Service recommends for voters returning ballots by mail that they should be mailed at least seven days before the general election. for General Election Oct. 24 – Nov. 1
★ ★ ★ ★ ★
"Like" the Board of Elections on Facebook to stay abreast of all election deadlines and updates.
Click here
★ ★ ★ ★ ★
General Election
November 3, 2020
Polls are open 6:00AM to 9:00PM
Early Voting:
October 24, 2020 to November 1, 2020
Times and Locations for Early Voting Available by Clicking Here.

Absentee Ballot Drop Off

Absentee Ballots

Are now being mailed. Applications are processed the same business day received and mailed to the Voter.
May be dropped off at the Board of Elections,

7 N. Erie St. Mayville NY 14757

May be dropped off at our 3 Early Voting Poll Sites (October 24 to November 1) during voting hours.
May be dropped off at ANY poll site on Election Day, November 3, during voting hours.
May be mailed to the Board of Elections using the included envelope when a voter receives their ballot.

General Village Election
Sinclairville and Westfield
March 16, 2021
Early Voting is not held for the General Village Election.
All other County Villages conduct Elections at the November General Elections.

State/Local Primary Election
June 22, 2021
Polls are open 6:00AM to 9:00PM
Voters are eligible to vote in the Primary if their enrolled party
has a Primary in the election district they reside.
Primary Election Early Voting:
June 12, 2021 to June 20, 2021

School Board Elections
May 18, 2021
Contact your District Clerk for more information.
Early Voting is not held for School Board Elections.

Maximum individual campaign
contribution limits for 2020. Countywide Candidates is $3844.70. Non Countywide candidates is $1000.00. - pursuant to NYS Election Law

Helpful Links

 

Election Inspector Information
Sign Up For Poll Worker Training HERE

Last Day to Register: October 9
Last Day to Inform B.O.E. of address change: October 14
Last day to postmark Application for Absentee Ballot: October 27
Last Day to Vote by Absentee in Person or by Agent: November 2
Last Day to deliver a voted ballot to the Board of Elections or County Poll Site: November 3
Last Day to postmark voted ballot: November 3

Federal/Oversees Absentee Ballot Application

Check Status of Absentee Application, Voter Registration & Look Where You Vote

February 21, 2020 Enrollment Totals

Poll Watcher Certificate

Independent Expenditure Committee

NYS and Local Party contacts

"Like" us on Facebook


Other Related Links

FOIL Request Form