Foster Parents are needed to foster children of all ages 
right here in Chautauqua County!
Do you enjoy working with children? Learn about our Foster Care and Adoption programs and meeting our Home Finding Team.
For more information regarding these programs
please call 716-661-8212.
Foster Care
Out-of-home care for children in custody of the Commissioner of Social Services. Specialty units include:  
Adoption
Foster Home Finding Unit
Preventive Services 
Adoption Information
Chautauqua County children who are freed for adoption through Family Court are provided with services that help them find a "forever family".
Child Protection
Investigates reports from the State Central Registry (SCR) concerning the abuse or maltreatment of children.
 To Report Child Abuse - 800-342-3720
 For Mandated Reporters - 800-635-1522
Persons in Need of Supervision (PINS) Diversion Program
A child under the age of 18 who does not attend school, behaves in a way that is dangerous or out of control, or disobeys parents, guardians or other authorities may be found to be a Person In Need of Supervision or "PINS".  The PINS diversion program provides short term, intensive, in-home family centered interventions with an overarching goal to prevent out of home placements, teach problem solving skills to families and link them to a community based system of care.
 For Parent Referrals Call - 716-661-8212
 For School Referrals Email - PINS@co.chautauqua.ny.us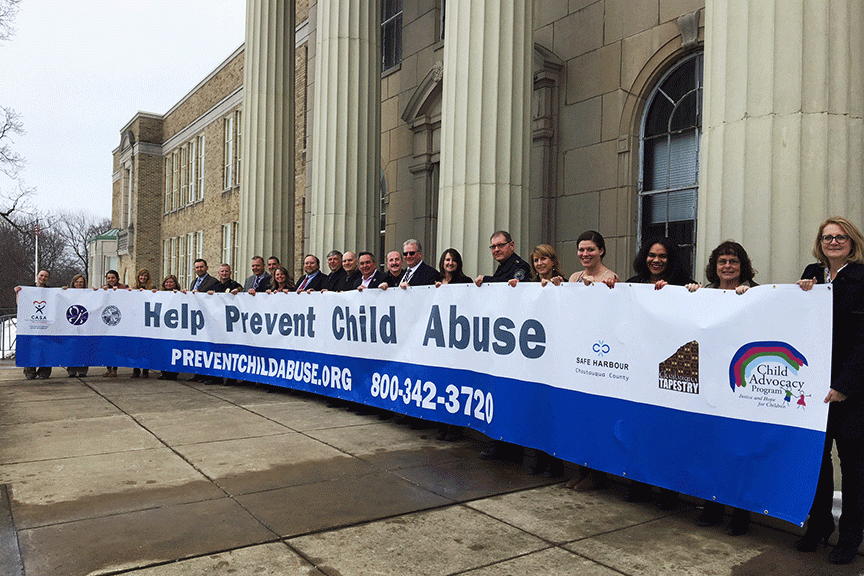 Pictured Above:  County Executive, Family Court Judges, law enforcement agencies from around the county and several organizations came together to recognize the importance of bringing awareness to our community. Banners were hung in Jamestown and Dunkirk during Child Abuse Prevention Month in April.