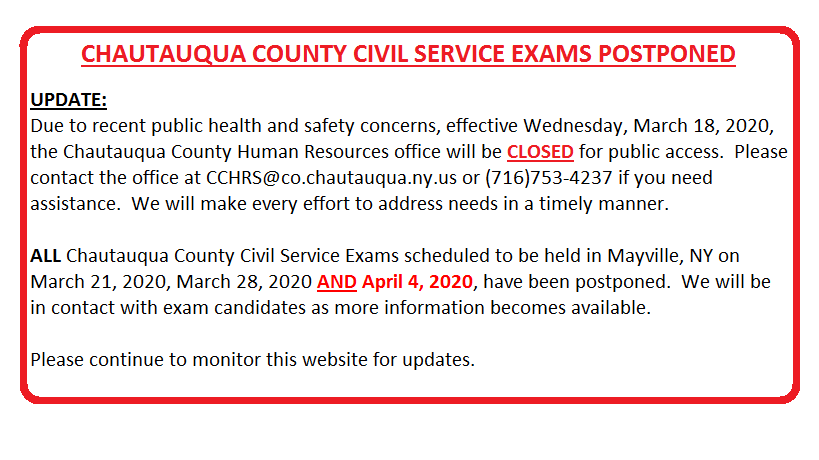 ALL Employment Opportunities and Examinations listed below require a Chautauqua County Application to be PRINTED OFF AND SUBMITTED WITH AN ORIGINAL SIGNATURE.
Non-Competitive Openings (No Exam Needed)
Cleaner (Temporary up to 3 Months) - NEW!
Deputy Sheriff (Part-Time) - NEW!
Mechanic II - NEW!
Senior Investigator (District Attorney) - NEW!
Wastewater Treatment Plant Attendant/Assistant Mechanic 
Provisional Opportunities (Exam will be announced at a later date)
Assistant Social Services Attorney - NEW!
Social Welfare Examiner (Spanish Speaking) 
Continuous Recruitment  Exams (Exams are open to the public - periodically held throughout the year - applications accepted continuously)
Open Competitive Exams (Exams are open to the public - Applications accepted only during posting period with deadline to file)
| | | | | |
| --- | --- | --- | --- | --- |
| EXAM TITLE  | EXAM NUMBER | DATE ANNOUNCED | FILING DEADLINE | DATE OF EXAM |
|   |   |   |   |   |
|   |   |   |   |   |
Promotional Exams (Exams are ONLY open to ELIGIBLE APPLICANTS - please see the "MINIMUM QUALIFICATIONS" section of announcement to see if you are eligible to apply for these exams)
| | | | | |
| --- | --- | --- | --- | --- |
| EXAM TITLE & NUMBER | ELIGIBLE APPLICANTS | DATE ANNOUNCED | FILING DEADLINE | DATE OF EXAM |
|   |   |   |   |   |
|   |   |   |   |   |