JAMESTOWN, NY – The Chautauqua Area Regional Transit System has unveiled a newly rebranded fleet of buses as part of a modernization initiative, which will also include new trolley cars and increased user functionalities.
Previously known as CARTS, the rebranding features a new name: CHQ Transit.
"We are all very excited for the rebranding of CHQ Transit," explained CHQ Transit coordinator Michele Westphal. "We have been working with KathodeRay Media Inc. to develop a new and fresh look.  We cannot wait for everyone to see our new bus wraps."
In addition to the new designation, CHQ Transit's fleet was updated with nine new buses purchased through the 5311 Grant from the New York State Department of Transportation (NYSDOT). The $826,900 of grant funding included an 80 percent federal, a 10 percent state and a 10 percent local share match.
Other funding was awarded from the Modernization and Enhancement Program Grant by the NYSDOT. A total of $1.5 million dollars in grant funding allowed for the purchase of three hybrid trolleys totaling $600,000.
The trolley cars, which are expected to officially hit the roads on an assigned route sometime next season, aim to increase tourism traveling on routes that include points of interest around Chautauqua County's many recreational attractions.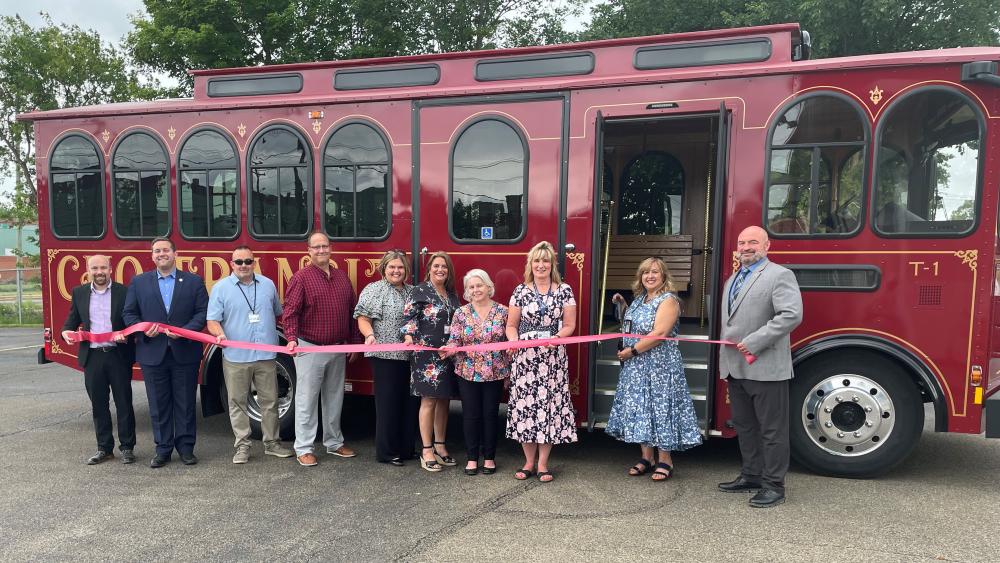 A trolley is currently available for the public to rent, catering to private events like bridal parties, business team building days or nights out on the town.
Of the 35 buses included in CHQ Transit's fleet, nine new buses have already been wrapped with the new colorful logo, which represents the varying routes CARTS already has in place.
(CHQ Transit's new logo, featuring countywide route colors.)
The design also features iconic locations around our area, with each bus featuring a unique set of landscapes that best represent Chautauqua County's beauty.
"I'm very proud to see this rebranding effort come full circle," explained Chautauqua County Executive PJ Wendel. "These new busses and trolley cars look incredible and not only fill a vital niche as our area's sole public transit source, but also, act as moving billboards showing off the great amenities Chautauqua County has to offer."
Four of the nine new buses will hit the streets on Friday, with around five more expected to be deployed by the end of next week.
"After that, we will begin to wrap the buses that we already have," continued Westphal. "So hopefully by the end of September, all of the buses will be wrapped and ready to go."
As part of the rebranding process, the CHQ Transit team is hiring consultants to help improve existing routes and route access countywide totaling $126,501 in grant dollars. $327,500 in grant funding was also allocated to pay for the overall rebranding process.
CHQ Transit is furthermore looking to invest $400,999 of the grant funding in new technology; including a cashless fare system and a mobile app. These systems are still in the planning phase and hope to be implemented in the future to increase convenience for locals and tourists alike.