A food service establishment is a place where food is prepared and intended for individual portion service and includes the site at which the individual portions are provided, whether consumption occurs on or off the premises. The term excludes food processing establishments, retail food stores, private homes where food is prepared or served for family consumption, and food service operations where a distinct group mutually provides, prepares, serves and consumes the food such as a "covered-dish supper" limited to a congregation, club or fraternal organization.
Apply for a Food Service Establishment Permit:
 
Application Instruction Packet
NYS Food Service Establishment Sanitary Code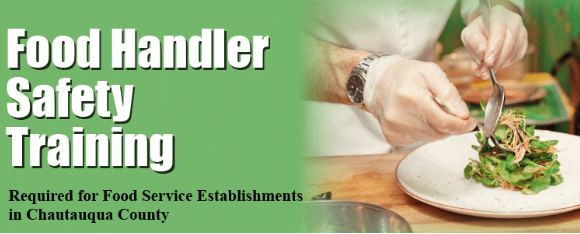 This three hour training is required for Food Service Establishments in Chautauqua County as authorized in Sub-part 14-1, Section 14-1.73 of the New York State Sanitary Code: 
"All food service establishments permitted by the Public Health Director shall be required to have at least one individual in a position of management or control involved in the routine operation of the establishment complete a food handler training course approved by the Public Health Director."

Certifications will remain valid for 5 years, at which time you will need to renew your certification. This training is also open to anyone who would like to receive a safe food handling certification in an effort to become employed in the food service industry.
New Certification Options
Conducted by:

Hospitality IMPACT Training - contact Dennis Ayer for class schedule & details
Email

: 

dennis.ayer22@gmail.com 

; Phone:  716-912-0796

Erie County Department of Health (PA) Food Safety Manager Certification Program

- for information and class schedule call:  814-451-6740 or visit their website here
 
The Certified Food Handler Training Program is a three hour course designed to teach participants the basic principles of safe food handling. The program includes the following topics:
Causes and prevention of food-borne illness

Proper methods of thawing, cooking, hot-holding, cooling and reheating

Hand washing/hygiene

Sanitation

Rules and regulations, including Sub-part 14-1 of the State Sanitary Code (Food Service Establishments)

Food allergens
Refresher Training - New Online Refresher Course
Renewing your certification has never been easier.  Chautauqua County has approved online food handler refresher training.  Either one of the below online classes satisfies your certification renewal.
Food Handlers Cards, Certificates, Courses Online in New York | Always Food Safe - Food Manager Certification & Training

 
visit website

ServSafe® - ServSafe Food Handler Program


visit website 
Why Receive Food Safety Training?
According to the Centers for Disease Control (CDC) the majority of food-borne illnesses in the United States are attributed to public eating establishments. This proactive training material will:
Safeguard the health of your customers and employees.

Protect the public image and reputation of your establishment.

Reduce the risk of lawsuits and high insurance premiums at your establishment.

Allow you the confidence of knowing your employees consistently prepare and serve food in a safe and sanitary manner.

Improve your establishment
1. I run a bar-only operation with no food prepared except bagged snacks. Do I have to take the Food Handler training?
No. You are exempt from this requirement to send an employee to this training, however, should your establishment be cited with any red-critical violations during your inspection, then you will be required to take the training.
2.  I have been told I have a Medium-Risk food establishment. I have a very limited menu at this time. May I apply for a waiver from this requirement to have a Certified Food Handler?
Yes, you may apply in writing for a waiver from the requirement. However, the granting of a waiver for Medium-Risk food establishments will be the exception, not the rule, and if you handle any raw meats such as chicken or beef, a waiver will not be given.
 
3.  I have several kitchen employees that I would like to be certified for Food Handling. However, they do not all drive and the nearest class is over 30 miles away. Can we have a class in my area?
Yes. The Health Department will bring the training to interested groups or food service establishments in other localities of the County, provided that we are contacted and a local venue for a class space can be provided and at least 10 participants are guaranteed.