FAQs
Who is eligible? Residential and small businesses located with 250 ft of the lakeshore whose septic systems are determined to be adversely affecting lake water quality.  This would typically include older substandard systems that are failing, undersized and/or that utilize seepage pits.
What lakeshore areas are eligible? A major public sewer extension is underway at Chautauqua Lake from Lakewood to Stow and a second phase is being planned from Stow to Prendergast Point, so those areas are not eligible for this program.    The eligible Chautauqua Lake area is from Midway State Park to Point Chautauqua, while the entire lakeshore area of Findley Lake is eligible.  
What is the process?  The property owner completes an application and submits it to CCDOH. CCDOH reviews the application and evaluates the system to determine if it is adversely affecting lake water quality.  If selected, the property owner receives an award letter and the project can proceed.  For most properties this will require hiring a professional engineer to design the system.  Once designed, a contractor is selected to construct the system.  The property owner will be responsible for selecting and hiring the engineer and contractor.  The property owner is then reimbursed for a portion of the costs for replacing the system.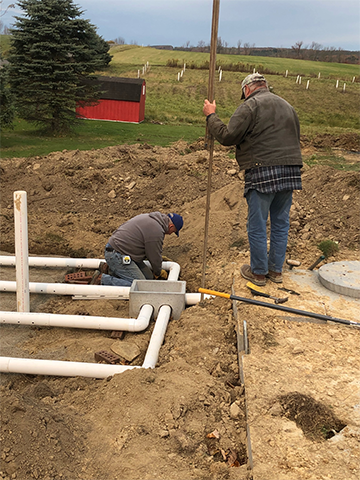 How much grant money is available? CCDOH was awarded a total of $150,000 for the program.  Property owners can receive 50% of the total cost for system replacement up to $7,500.  Note that typical engineered systems being installed around our lakes can range from $20,000 to $25,000 (includes engineering fees).
How many property owners will be assisted through the program?  It is anticipated that 20 to 25 property owners can be assisted with this program on a first come-first served basis.
What happens if I apply but am not selected?  No additional action will be taken at this time. However, CCDOH will be conducting mandatory septic system inspections in the future, which could force a property owner to upgrade or replace their septic system if it is found to be failing or inadequate .
How do I apply?  Applications will be available starting July 8, 2021 and can be downloaded from the CCDOH website and from participating town offices. A press release will go out at that time advertising the program.
What is the schedule? Applications will be processed as CCDOH receives them.  Property owners will be notified of their eligibility shortly thereafter.  All property owners selected for this program must have their new system installed by no later than October 1, 2022.
More information call 716-753-4481.